A series of apparent concept art images from the upcoming Han Solo anthology film has surfaced on eBay's UK site earlier today. The images are purportedly from an insider working on the untitled film, which is code-named Red Cup.
One of the images, first posted by StarWarsNet, shows the young space pirate himself. The illustration bears a striking resemblance to Alden Ehrenreich, the film's star who will soon take up the mantle of Star Wars hero Han Solo. From the looks of it, Solo chose a look early and stuck with it. The multi-pocketed combat jacket, striped trousers, blaster holster and the white shirt with its distinctive flap collar are the same look he sported in Star Wars: Episode V -- The Empire Strikes Back.
RELATED: Lucasfilm President Clarifies Han Solo Name Controversy
The various spaceship and vehicle concept images include blueprints, wireframes and fully 3D-rendered designs of various shapes and sizes. Many of these appear to be Imperial vessels (the Stormtroopers give it away.) One such vehicle features twin engines that are horizontal in flight, but vertical upon landing. It echoes Darth Vader's T-4a Lambda-class shuttle first seen in Star Wars: Episode VI – Return of the Jedi, and subsequently added to the post-1997 versions of The Empire Strikes Back.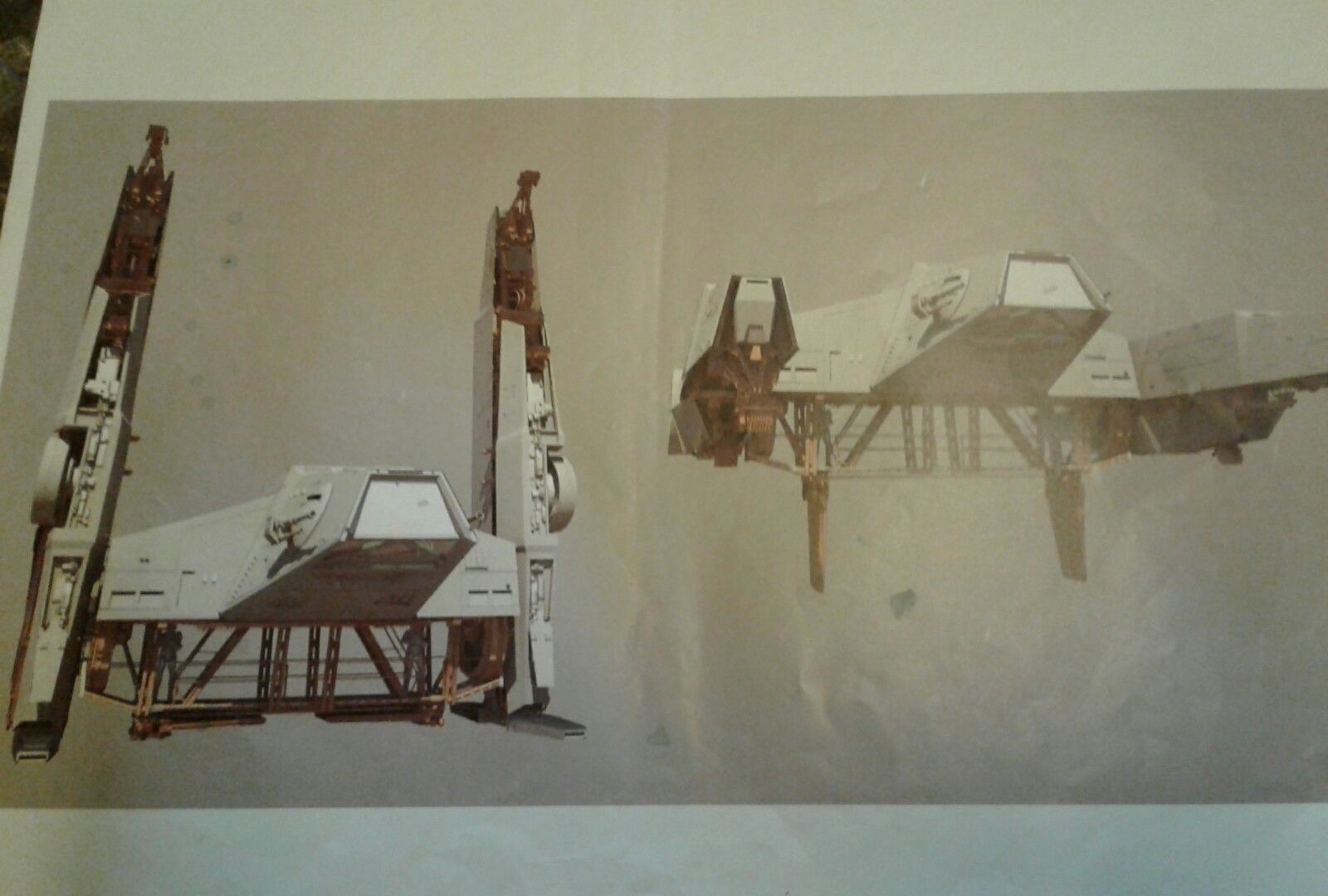 Another interesting vehicle is the "Nest Bumper Car," a bigger twin-engined version of the speeder bikes first seen in Return of the Jedi. This vehicle, which is straddled by riders like a motorcycle, looks really fast. When viewed from above, it looks like a flying Formula One car without wheels.
While the images do look like the real thing, it's hard to say whether or not they're actual concept drawings of elements that will appear in the still yet-untitled film. Security on such productions is tight and, even if these are the real deal, they may not make the final cut. At the same time, Star Wars is a franchise with a 40 year history and a distinct visual aesthetic. As authentic as these images may appear, they could well be the work of one or more gifted fan artists.
Debuting in theaters on May 25, 2018, the Hal Solo movie is directed by The Lego Movie helmers Phil Lord and Chris Miller with a script by Lawrence and Jon Kasdan. The film stars Alden Ehrenreich as Han Solo, Donald Glover as Lando Calrissian, Joonas Suotamo as Chewbacca, Emilia Clarke, Thandie Newton, Phoebe Waller-Bridge, Michael K. Williams and Woody Harrelson.
Joker Director Wants to Helm Even More DC Character Origin Story Films