One of the unfortunate themes that has evolved over the past year or two within the comics industry is financial instability at a variety of different small press publishers. In one case the financial problems were created when distributor LPC Group, who distributed books to bookstores for publishers, filed for bankruptcy. This was a near-crippling blow for companies like Top Shelf and Drawn & Quarterly who were owed major amounts of money by LPC. Not only that, they now found themselves without a book store distributor. In this case, the fan community came alive, buying books directly from the publishers in the hopes of raising enough money to keep the publishers going, and it worked well.
Another high profile bankruptcy was that of CrossGen Entertainment, a story now well known throughout the industry. A very public battle ensued between creators who were owed money and a publisher repeatedly asking for patience and stating the money would be coming. The money never did come and eventually CrossGen filed for bankruptcy The company had accrued over $3 Million dollars of debt, with numerous creators, printers and distributors owed thousands of dollars. Recently it was announced that Disney has acquired the assets of CrossGen, but that acquisition in no way affects the accumulated debt. Those owed money by CrossGen will never see it.
One publisher sorely affected by the collapse of CrossGen is MV Creations, the studio behind comics "Masters of the Universe," "Space Ace," "Dragon's Lair," "Rob Zombie's Spookshow International" and "Tales of the Realm." The studio has accumulated debt of $140,000 dollars and is looking for some help from friends and fans to at least pay off the debt owed to creators who produced comics for the company. CBR News spoke with Staples who shared with us a timeline of their publishing history and how they've arrived where they are today.
Prior to publishing comics, Staples spent his time as a colorist in the comics industry for about three years. In the summer of 2001, Staples and MV Creations ventured into the world of publishing, starting with the "Masters of the Universe" license, owned by Mattel.
"I knew from the get go that this whole thing with the '80s properties was more or less a nostalgia trend and it wouldn't last forever," Staples told CBR News Monday evening by phone. "If you're going to grow in the industry you have to be able to mix projects. So, we moved into 'Dragon's Lair' and 'Space Ace,' we worked with Rob Zombie doing a comic with him. We did 'Tales of the Realm' with Robert Kirkman, which a lot of people seemed to enjoy. We were doing really well and always budgeted smart. We were upfront and honest with all of our creators, specifying what sales were like and what we could realistically afford to pay. We never hid anything from anybody. Our books were always budgeted correctly. There was always enough money to cover our expenses and pay our artists."
Originally MV Creations published their comics with Image Comics. In early 2002 the two companies began having some problems, problems which Staples made clear have definitely been resolved as of today. "At the time it didn't seem like problems would be resolved and things were looking good over at CrossGen," said Staples.
Up to this point MV Creations was doing well. They were able to pay their creators and get their books out on time. Friends who had already begun working with CrossGen gave them glowing marks, the press at the time was positive and Staples was encouraged by CrossGen's library programs, bringing their books into the nation's libraries and in front of young adults. They jumped in feet first and began publishing with CrossGen.
About five or six months in to working with CrossGen it was time for the paychecks to come and they never did. Staples said at one point CrossGen did give them a single payment of $5000, which admittedly took quite a bit of finagling to get. Staples and MV Creations continued to push for the remainder of the money owed, but as was the story with most everybody who was owed money from CrossGen, the effort was for naught.
"I tried never to grow beyond what we were capable of doing," said Staples. "There were only four of us here in the studio. When you suddenly go from everyone getting a paycheck to no money coming in what-so-ever, not only could we not pay the creators that were owed from the books, but we also couldn't maintain the studio and peoples job's. We tried for a few months to work with what we could, tried working deals with retailers to sell some of our back product, everyone at the studio took a big cut in pay. Without trying to sound self-serving, I always got paid less than anyone else. When you run a business that's a gamble you have to take. My hope, of course, was that we'd be able to level out, but at that point things just kept getting worse and people had to leave the studio to find jobs that would pay."
Over time the total debt CrossGen owed for comics and one trade paperback amounted to almost $60,000. The little income the company did have coming in just wasn't making it and their debt continued to compound. So, MV Creations decided to make a shift to graphic design to try to bring in work, but Staples admits it was probably a little bit too late at that point and the market proved to be very challenging.
"We were finding ourselves doing freelance and not even making enough money to pay our own bills here, let alone pay this creator debt. We tried and failed in our efforts to do what we could to correct this problem."
The company pulled out from CrossGen and realigned itself again with Image, their past problems having been resolved. Not wanting to make false promises to creators, they stopped publishing "Space Ace" and "Dragon's Lair" and picked the two titles that were the most profitable for them, "Rob Zombie's Spookhouse" and the He-Man books. They cancelled all other plans to bring titles in and cancelled all talks for future licensing deals.
As the old adage goes "When it rains, it pours." Earlier this year MV Creations was hit with another crippling blow, this time from Mattel. "I don't want it to sound like I'm blaming Mattel, it's just one of those things that happened," said Staples. "When we went in to this licensing deal originally we had a discussion that we would have to appeal to a different demographic. We had a twenty-something crowd that we were trying to cater to with the comic, while they wanted to see a different type of story. I won't lie, we did things with the comic we shouldn't have. There was a charity book we did to raise money for the Children Affected By AIDS Foundation. It was a Halloween book and we put in a character that wasn't a character currently in production with the new brand, but we also went in with the understanding with Mattel that we could bring in new characters. That rustled some feathers and I blame myself for that. That opened the door into looking at what we could and couldn't do with the comic and upon further exploration, Mattel came to us and said the reality is that you can't do any of these new characters, you have to work with a finite list of characters and you can't even create new characters. So, I was at a point where we had started development on a new story that we felt would maintain our core audience and continue to be a profitable book. We ended up having to scrap six issues of the story and two completed issues of artwork, which further killed our creator debt."
With that edict from Mattel, the debt continued to grow as the company would see no revenue from the scripted stories, nor the completed issues of artwork, the creators of which all still needed to be paid.
With Rob Zombie's scheduled taken up by a new movie, "Spooskhow's" last issue came out earlier this year. Zombie still would like to finish the story up in order to issue a complete trade paperback collection sometime in the future, but there won't be any more single issues.
As for "Masters of the Universe," issue #7 arrives on comic shop stands today with issue #8, the final issue, hitting next month. In addition, Mattel has chosen to pull out of the "Masters of the Universe" program they had running and a planned trade paperback collection of the published books has been scrapped. For most publishers, TPB's represent an important revenue stream, one lost to Staples and MV Creations.
At this point, Staples' main goal is to pay back the creators who're owed money as quickly as possible and hopefully to avoid bankruptcy, but Staples is realistic about that.
"After reviewing where the industry is (I even wrote an article called the 'Poorman's Guide to Publishing') and reflecting on this I realized I still wanted to work in comics and in order to do that you need to have some degree of respectability. Not only will I not be respected if I fail to live up to my end of the deal, I'm going to have a hard time being able to respect myself knowing how much money I owe to people."
As it currently stands, the debt has grown to $140,000. Over the course of the last year Staples says that it compounded far quicker than anyone could have imagined. Approximately $52,000 is owed to creators that worked on the "Masters of the Universe" comics. Another $30,000 of debt is owed to creators that worked on other properties with the remainder being studio and personal debt.
"Whatever I can do to pay the creators off, I want to do first," said Staples. "As far as the studio and personal debt, if I'm not able to pay it off, I'm happy to shoulder that and file for personal bankruptcy as long as no one else is inconvenienced by it."
Staples is asking for help. He hopes to raise money through selling their product online or through donations made from fans and friends. Staples said he will take the first $2500 raised and put that towards paying for studio rent so that he doesn't have his landlord after him. After that, the money will immediately go to creators.
"It wouldn't do me any good to put that money towards personal debt, especially if I don't get all of it, because I'll still face the same problem of creators not getting paid."
When asked if there was anything he could have done to avoid this situation, he took a look at what has happened over the last year or two. Hindsight being 20/20, the switch to CrossGen was the beginning of the problems faced by MV Creations.
"You pull that one orange out of the pile, the rest keep falling down," said Staples. "Other than going to CrossGen, I wish I had asked for help earlier. I wish I hadn't been somewhat proud and try to fight this for a year, thinking that I might be able to pull out of it. That was a mistake. I really wish soon after things were done at CrossGen that I had turned to fans and asked for help rather than allowing this debt to compile. That's why my big focus is raising money to pay for creators and I'll file for personal bankruptcy on the rest. That's just a responsibility I'll have to take.
"I took a risk when I began publishing and I can't and don't expect fans and collectors to shoulder that responsibility. The debt that's compounded over the past year I don't feel right turning to people and saying hey, help us raise $140,000, but it would be nice for any help that we could get to try and eliminate the debt that was originally started by CrossGen."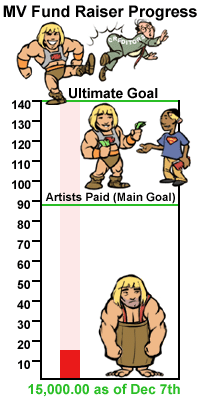 Staples hopes to get back to making comics again, but doesn't have any interest in rejoining the publishing game. He has talked with a number of up and comers as well as Image Comics about doing some creator-owned books, but that's a bit far off in the future.
"I've been planning to move forward, but my main concern right now is taking care of the matters in hand. It's not going to do me any good to move forward with that if I still have other things that are lingering and need to be resolved."
If you're interested in helping MV Creations pay off their debt to creators, you have three options. First, you can purchase some of their published product off of their Web site directly.
Second, you can make a donation online via the PayPal link below.
Thirdly, you can also send your donation as a check, money order or cashier's check via regular mail to the following address.
MVCreations
1316 Jefferson Street
Lynchburg, VA 24504
Staples told CBR News Tuesday night that already $7,000 dollars has been raised through comics sales and donations from He-Man fans alone. "So far, I'm floored by everyone's generosity," said Staples.
"The primary goal is just to pay off the artists," continued Staples. "The ultimate goal, of course, would be to be debt free. But as I mentioned before, my focus is on the artists and that first marker is what we're really shooting for."
Young Justice: Bendis Teases Captain Carrot and His Amazing Zoo Crew