Comic Legends: Why Can't Batman's Button Appear in Europe?
Welcome to Comic Book Legends Revealed! This is the six hundred and twenty-fourth week where we examine comic book legends and whether they are true or false.
Just like the last few months, one legend today, one tomorrow and one Sunday.
Let's begin!
COMIC LEGEND:
The "Watchmen" Smiley Face is under trademark protection in Europe.
STATUS:
True
This week saw the release of "Batman" #21, the first part of the crossover "The Button."
The cover is notable for its special 3-D lenticular cover…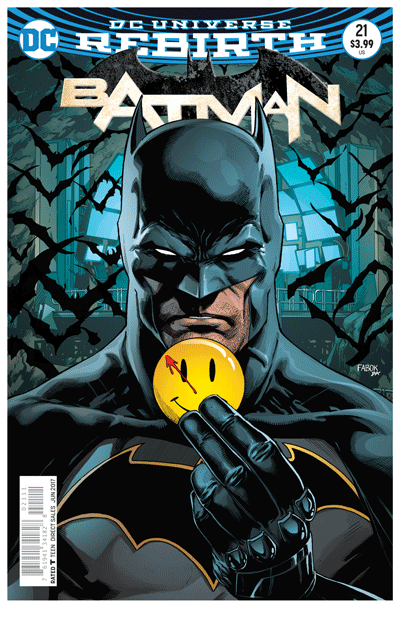 There is also a regular cover with both images on it…
However, those covers are not available in Europe. In Europe, they had to use this cover…
My buddy Arno, from the French comic book store, Alca Comics (and organizer of the Paris Comics Expo), asked me why that is (he had heard the reason and wasn't sure if it was true).
It all goes back to Franklin Loufrani, a Frenchmen who trademarked the famous "Smiley" face in Europe in the early 1970s. It had been around before that in the United States, but no one had bothered to trademark it. Franklin Loufrani did, though, as he used it in his newspaper. He then formed a company, the Smiley Company, to manage the trademark. When his son took it over in 1996, he really began to push the trademark and made the company a very successful company through the licensing of the trademarked image in Europe.
In the United States, though, the Smiley face had been used for years in various places. Wal-Mart, in particular, used it all over their stores. In 1997, Smiley Company tried to begin enforcing their trademark in the United States, which led to a long, drawn-put lawsuit with Wal-Mart. Wal-Mart even began to phase out the Smiley Face mark from their stores because they believed that they would ultimately lose (or, if they DID lose, they didn't want to be unprepared).
In 2008, however, a United States Patents and Trademark Court ruled that the Smiley face mark was too generic to be trademarked and that the mark was in the public domain in the United States, which is how it had been treated for years up until that point. However, the mark remains protected by EUROPEAN trademark law.
That is why this is the American Watchmen trade paperback cover…
And this is the European one….
Rich Johnston wrote about this a while back, but when an actual French person isn't sure about the truth, I figure that the legend is still worth discussing, ya know? Thanks to Arno for the question and thanks to Rich for covering this a few times over the years!
---
Check out some legends from Legends Revealed:
Did Barry Manilow Seriously Write "Mandy" About His Dog?
Did Concerns Over Toy Sales Keep Han Solo From Being Killed Off in Return of the Jedi?
Did the Iron Sheik Really Win a Gold Medal at the 1968 Olympics?
Did Bill Cosby Really Try to Buy the Rights to Amos and Andy to Keep it Off the Air?
Check back Saturday for part 2 of this week's legends!
And remember, if you have a legend that you're curious about, drop me a line at either brianc@cbr.com or cronb01@aol.com!
Ad Free Browsing
Over 10,000 Videos!
All in 1 Access
Join For Free!
Go Premium!